I love games and started Telly's Game to provide tips and strategies for getting ahead in games I play and like to cover too. I started this out as an advanced guide for Empires & Puzzles, a complex RPG and match-3 game. It had such great success with Empires & Puzzles, that it now has expanded to other games, like,
Pokemon Go
, which is a game I played before E&P. Then in late August 2020, I took over
AllHeroes
- which is a beautiful summons simulator & hero database for Empires & Puzzles. Maybe eventually I will fold it in here to Tellys Game, but for now, it's on its own website while we update it.
Like any RPG, this site has its own backstory...
Telly's Game Backstory
Hi, I'm Telly of Empires & Puzzles. That's short for
Telluria
, but my friends call me Telly. This is my website, where I'll post, well, whatever I feel like on Empires & Puzzles, whether info on events and tournaments, some tips or tricks, and strategies for advancing in the game. (Editor's Note: For those confused, Telluria is a fictional character ... I'm not really Telluria, but am a long-time player of the game).
Yes, I'm controversial to some, but think of it from my perspective. There I was in March 2020 and I was the Hero of the Month! A 5* Nature HOTM! Here's my HOTM card: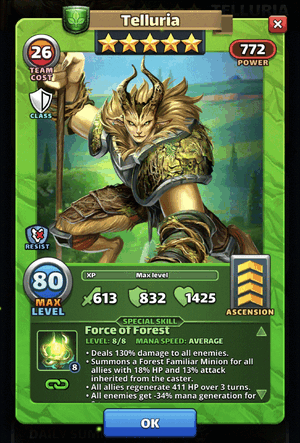 But then they just threw me in and put me in the center of everyone's defense. They called me the TANK, and everyone started attacking me.
I was Petri-fied. But I have a strong defense, and emblemed up to get even stronger. Then it became awful.
They started questioning my gender
... What The? My nickname is Forest Gawd, sheesh, you see:
And, don't you just love my nails? Great, now that we've cleared up that gender identification issue completely, let's talk business.
It was so awful when everyone started questioning my power, as if I'd bulked up illegally on steroids or something. Then Small Giant Games came along and nerfed me. They called it a "balancing", but it really hurt! That small giant did this to me:
Reduced my mana generation power from -34% over 3 turns to -24% over 2 turns.
Reduced my minions' HP from 18% to 13%.
And reduced my healing power from 411 HP over 3 turns to 306 HP over 2 turns.
But, I will survive. And with my bff
Vela
, we still can team up and prevail! As my and Vela's fav song says:
At first I was afraid, I was petrified

Kept thinking I could never live without you by my side ..

And I grew strong

And I learned how to get along ...
Oh no, not I, I will survive

Oh, as long as I know how to love, I know I'll stay alive

I've got all my life to live

And I've got all my love to give and I'll survive

I will survive, hey, hey